STEP 1.
NETWORK SETUP
Setting up wireless connection with the TV :
Now you can directly connect your Smart TV to the inernet without the need of any cables / adapters through the wireless technology.
Below listed is the common setup diagram of the connection in order to connect the Smart TV to the wireless router.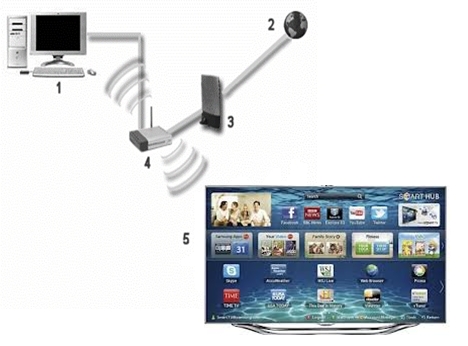 i). Home Computer
ii). The Internet
iii). Broadband Device ( DSL / Cable Modem)
iv). Wireless Router
V). Smart TV
To connect using the wireless feature of the TV , the user should also have a wireless router / modem to transmit the internet signals to the Smart TV.
To check the the list of the TV's having Wireless option please CLICK HERE
To check the steps on how to connect your SMART Tv to wirelsess router please click NEXT