FAQs
Product : Home Appliance > Refrigerator > Top Mounted Freezer
Top Mounted Freezer : What is a Digital Inverter Compressor in Samsung Frost Free Refrigerators?
Last update date : 2016.12.29
Samsung's Digital Inverter Compressor (DIC) intelligently varies its power and running speed (as a variable) as per the immediate cooling requirement of the compressor. It significantly increases the overall appliance efficiency.
Compared to the traditional single speed compressor, the inverter compressor can run at a number of desired speeds, depending on how the refrigerator is being used by the consumer. This provides options for quick pull down or freezing, or to run at a very low speed once the cabinet is at a steady state, thereby significantly reducing energy consumption.
● Unlike a conventional compressor, DIC does not abruptly start and stop, ensuring consistent, uniform cooling and consuming less energy.
● Less Start & Stop also means low noise and less wear/tear of internal components, elongating compressor life.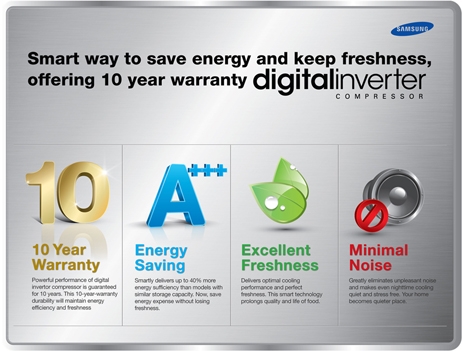 | Conventional Compressors | Digital Inverter Compressors |
| --- | --- |
| The Noise level in Conventional Compressor is usually very high. | It monitors temperature levels, making adjustments to its RPM speed; therefore, significantly reducing noise. |
| The efficiency of Conventional Compressor is pretty low.0. | It delivers up to 40 percent more energy efficiency than conventional compressors. |
| The use of this compressor leads to a great increase in Green house emissions. | The use of this compressor leads to decrease in Green house emissions. |
Related Model Information.
, RT28FAJSARX , RT26FAJSASL , RT33FAJFALX , RT36FDJFASL , RT26FAJSALX , RT33FAJFABX , RT36FDJFABX , , RT28FAJSALX , ,
Contents Satisfaction Survey